Western Union
Art Director: Luis Fabrega.
Copywriter: Luis Fabrega.
Store Render: Analuisa Alvarado.
Featured on Creativity Online and endorsed by Luke Sullivan (author of Hey Whipple, Squeeze This.)
Description:
Western Union is a communications company known for being a leader in global payment services.
Problem:
Western Union needs to offer more value to immigrants than just transferring money across the border.
Objective:
Help move Western Union into the 21st century by repurposing them to help immigrants achieve citizenship.
This case study video is the story of why we need a new rebranded Western Union.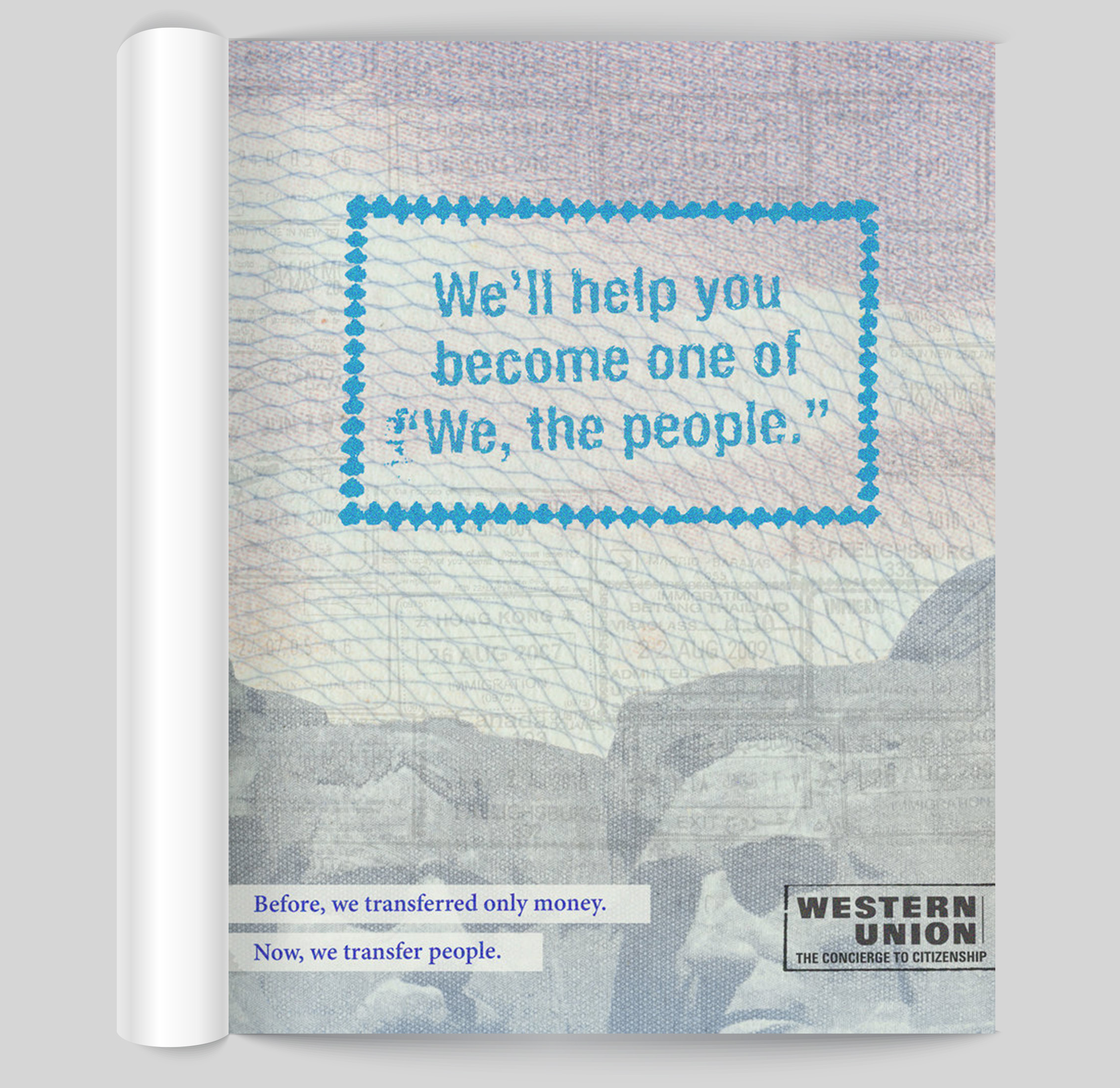 Old Western Union stores will be redesigned to be a community gathering place instead of just a touch-point.
At the flagship store, we'll add new financial and immigration services so our customers can grow their money and navigate the confusing forest of paperwork.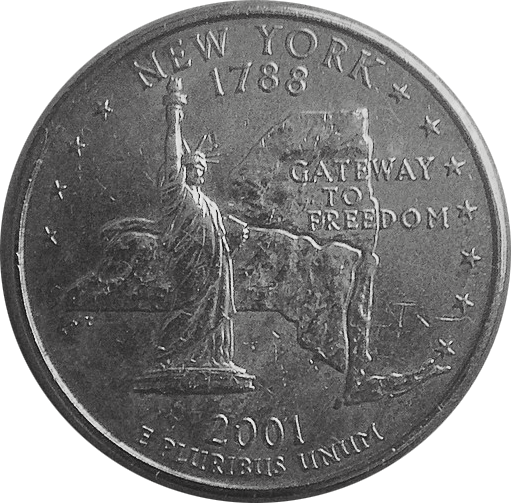 Western Union will give special discounts to customers who bring quarters that are especially marked with the "New York 1788 Statue of Liberty."
Because New York City was consider "The Gateway to Freedom," this seemed like a good opportunity to connect Western Union with the nostalgia of early New York City.
Alien.com is a job portal like Monster but exclusively for immigrants.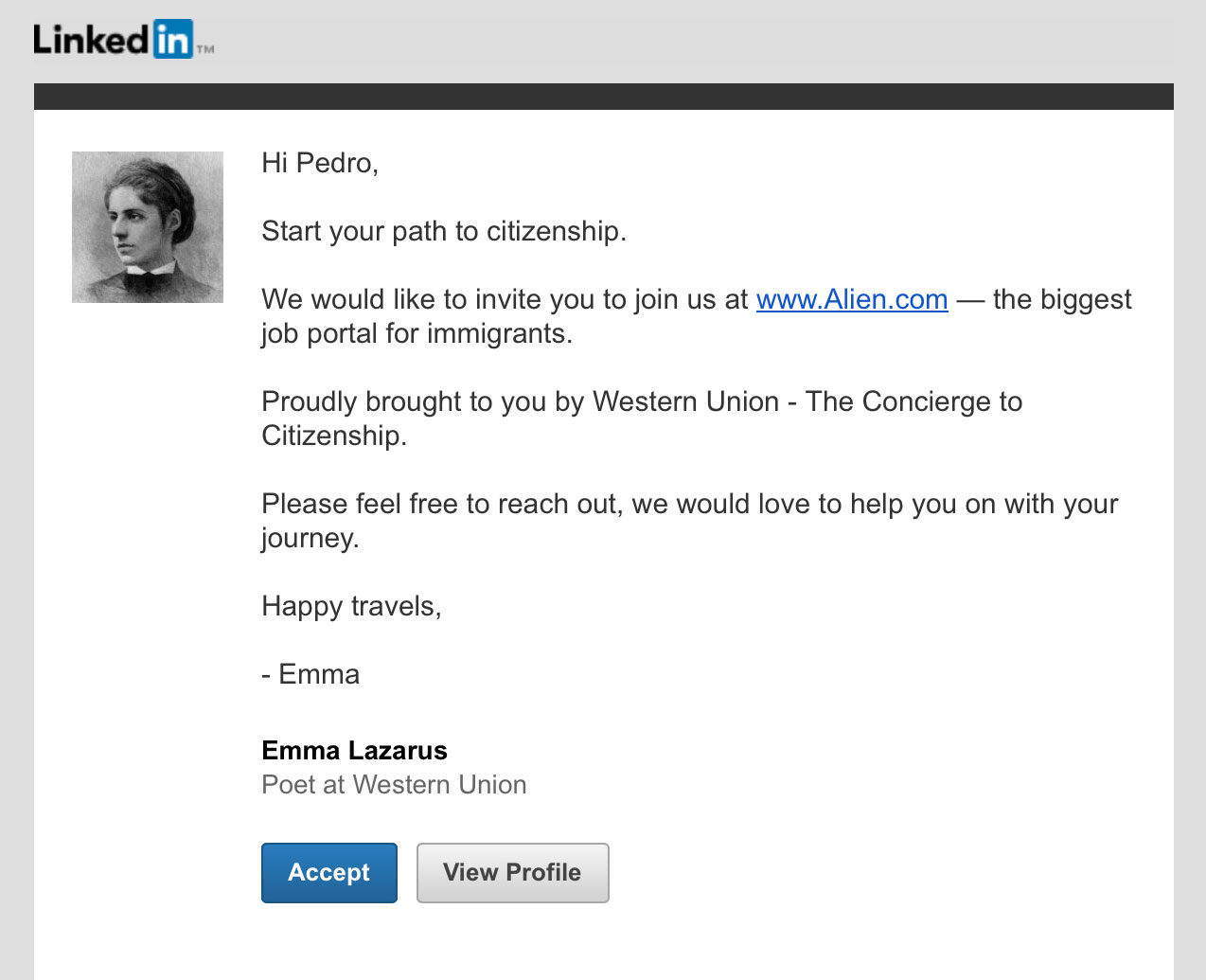 Western Union will invite immigrants via LinkedIn to Alien.com job portal based on their current position, industry, or region using the alias of Emma Lazarus, author of 'The New Colossus'.
Alien.com web banners will appear in articles about immigrants living the American Dream.
A new Western Union YouTube channel will help customers keep up with immigration news and bridge the gap between the digital divide.
Additionaly, we'll provide free transportation so our customers can arrive to their new jobs safely.
To get even more involved with the community we could also host more meaningful gatherings like family reunions.
On Twitter we'll introduce the hashtag #HispanicProblems so our customers can talk about their daily new American experiences with other Hispanics.
On Instagram our customers can post pictures of their passport stamps to compete to win a green card using the hashtag #passporttattoos.