The Great Invisible
Client work produced for Participant Media (creators of An Inconvenient Truth and Food Inc.)
Featured on the One Club's Annual Student Exhibition in New York at Creative Week.
Awarded a Bronze ADDY for Poster Design and Gold SCADDY for Typography.
Art Director: Luis Fabrega.
Copywriter: Luis Fabrega.
Description:
The Great Invisible documentary is a feature-length look at the global oil economy through the lens of characters that work in the oil and fishing industries on the Gulf Coast.

Problem:
Film festivals and consumers are not thrilled about The Great Invisible documentary.
Objective:
How to build awareness within the limited budgets common to independent studio releases.
A typographic movie poster design with swirls of smoke and chemicals to resemble the lies and truths that are coming out about the Deep Horizon Oil Spill.
Digital banners will be placed near hotels, airports, and film festivals. The swirls will transform into text revealing truths about the Deep Horizon Oil Spill.
Furthermore, the #spillthetruth will be released so people can tweet and share about the oil spill. The most truthful tweets will be shown in the banners.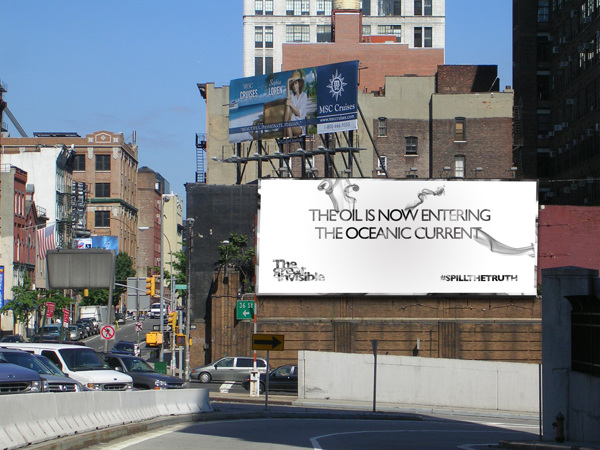 Microsite and Web Banner: A digital timeline where people can keep up and interact with the Deep Horizon Oil Spill. Users will pull the smoke swirls to find out information about the spill. Also, they will be able to add to our timeline with blog posts, articles, events, images, etc.
Napkins will be used in hotel bars and concession stands to serve drinks to customers.
Hotel safeboxes will have sticker decals to show there's a lot of secrets behind the oil spill.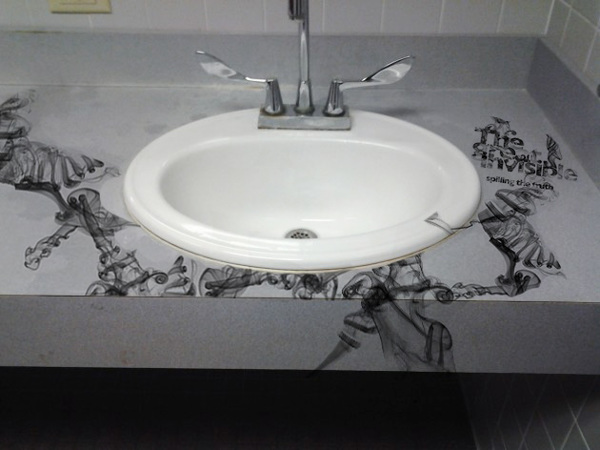 Public bathrooms will have black liquid soap and sticker decals around the sink. This is an allusion to the people who washed their hands with lies after the oil spill was sealed.
Snapchats will be sent to users to spill bits of the truth about what is going on live at the Deep Horizon oil spill.